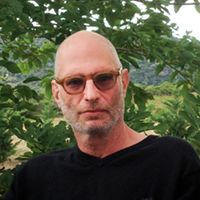 ROBERT HERMAN
NEW YORK CITY USA
Studio +1 646 387 6189
Robert Herman has been a street photographer since his days as an NYU film student in the late 70's.
He is the author of two monographs: The New Yorkers (Proof Positive Press), is a collection of his New York City photographs shot on Kodachrome between 1978-2005. His second monograph, The Phone Book (Schiffer Books 2015), is Herman's collection of iPhone photographs made using the Hipstamatic App's square format while traveling across the world. The Phone Book was chosen as one of the best photography books of 2015 by Elizabeth Avedon.
His photographs are in the permanent collections of The Museum of the City of New York, The George Eastman House, The Telfair Museum in Savannah GA and the Mario Franco Archives/Casa Morra Foundation in Naples, Italy.
His recent solo exhibition "The Yellow Truck," at the Mario Franco Archives at Casa Morra, was a behind the scenes look at the making of a "B" movie in 1982.
In 2015, Herman's photographs from The New Yorkers were the subject of a solo exhibition at the Amerika Haus in Munich, Germany.
Herman's work has been featured in The New York Times, Lens Culture and many other publications. He has a Masters from the School of Visual Arts in Digital Photography and a BFA in Filmmaking from New York University.
EDUCATION
2014 Artist's Summer Institute Creative Capital/Lower Manhattan Cultural Council, New York, NY
2009 Masters of Professional Studies in Digital Photography School of Visual Arts, New York, NY
1979 Bachelor of Fine Arts, Film Production New York University, New York, NY
1973 - 1975 Boston University
PUBLICATIONS - MONOGRAPHS
2015 The Phone Book, Schiffer Books Foreword by Mary Ann Lynch
2013 The New Yorkers, Proof Positive Press Foreword by Sean Corcoran,
Essay by Stella Kramer 3rd Printing, 2016
FILM
2009 Sylvie Went Shopping photographer, director, editor 3 min QuickTime color
1982 Dance Film camera, director, editor 9 min 16mm color Screening at Vision Festival, New York, NY 2007
1979 A Story for Lisa writer, director, co-editor, 12 minutes 16mm color 1981 (collection Fondazione Morra/Mario Franco Archive
BOOK ENTRIES
2016 A History of NY Cool 75th Anniversary Coach Rizzoli, New York, NY
2015 Photography: The Definitive History by Tom Ang, DK Publishing Ltd. London, UK
PUBLIC COLLECTIONS-PRINTS
Fondazione Morra , Naples, Italy
George Eastman House, Rochester, NY
Museum of the City of New York, New York, NY
Telfair Museum of Art, Savannah, GA
CORPORATE COLLECTIONS
The Bisys Group, New York, NY
The Dominick Hotel. New York, NY
Marriott Hotels Ft Lauderdale, FL
Westin Hotels San Antonio TX
MONOGRAPHS (selected permanent collections)
Columbia University
International Center of Photography
Metropolitan Museum of Art
Museum of Modern Art, New York, NY
NYU Abu Dhabi, UAE
Savannah College of Art and Design
Skidmore College
University of Michigan
University of Southern California
EXHIBITIONS - SOLO (selected)
2018 The Yellow Truck Mario Franco Cinema Archive/Fondazione Morra Naples, Italy
2015 The Phone Book Lo.Ft Gallery, Lecce, Italy
2015 The New Yorkers Amerika Haus, , Munich, Germany
2015 The New Yorkers Bitume International Photography Festival, Gallipoli, Italy
2013 A Waking Dream Museo de Arte Moderno de Cartagena Cartagena, Columbia.
2003 40 North x 73 West Mercury Lounge Savannah, GA
2002Triptychs McCaig-Welles Gallery, Brooklyn, NY
2000 Color Photographs Paul Weinschenk Gallery New York, NY
1998 Surface Tension Cooper Gallery Jersey City, NJ
GROUP EXHIBITIONS (selected)
2019 Human Spaces, Tianjin International Design Week, Tianjin, China
2018 Let There be Light (and Shadow) Umbrella Arts curated by Harvey Stein
2017 Street Smart School of Visual Arts curated by Jamie Keesling New York, NY 2017
2017 Members Only Show 30 Texas Photographic Society 3rd Place Award 2017 Juried by Malcolm Daniel
2017 Small Works Sydney Mishkin Gallery at Baruch College, curated by Elizabeth Avedon New York, NY
2016 NYC Streets: Then and Now Salomon Arts Gallery New York, NY 2016
2011 Around the Urban Citizenship Concept Istanbul Photography Museum, Istanbul, Turkey
2010 In the Zone Henry Gregg Gallery Brooklyn, NY
2004 Winter Solstice II Gallery Boreas Brooklyn, NY
2002 The 9/11 Project New School England School of Art and Design curated by Charles Guliano, Boston, MA
2002 Life of the City The Museum of Modern Art New York, NY
HONORS AND AWARDS
2017 Texas Photographic Society Members Only Show 30 3rd Place Award Juried by Malcolm Daniel, Curator of Photography, Museum of Fine Arts, Houston
2017 Photo Place Gallery/Texas Photographic Society Composed juried by Sam Abell Honorable Mention
2015 Foreword Reviews' INDIEFAB 2015 Book of the Year Awards Honorable Mention The Phone Book
2014 Lens Culture, One of 14 Favorite Street Photographers
2013 Foreword Reviews' INDIEFAB Book of the Year Awards Finalist The New Yorkers
2013 Institute for Community Living Beacon of Hope Award,
2013 London Festival of Photography International Street Photography Award – shortlisted
2009 ArtistsWanted/Exposure 50 Exceptional Photographers
2009 School of Visual Arts Innovation in Photography Award
2008 PX3 Prix de la Photographie Paris Fine Art Professional Book Proposal People's Choice Award Silver Medal, Paris, France
2008 New York State Education Department, Small Business Grant, Brooklyn, NY
2007 Alitalia Airlines, Alitalia per L'arte Rome, Italy
EDUCATOR/WORKSHOPS
2018 Spazio Tangram Street Photography Workshop, Naples, Italy (March and November)
2018 PDN/PhotoPlus Expo iPhone Photo Walk, New York, NY
2017 Annenberg Photography Space, Master Class: Self-Publish Your Own Photography Book: From Kickstarter to MoMA, Los Angeles CA
2016 PDN/PhotoPlus Expo Self-Publishing Seminar, New York, NY
2016 PDN/PhotoPlus Expo iPhone Street Photography Photo Walk New York, NY
2016 Dallas Photographic Society Eyes on Dallas Street Photography Workshop Dallas, TX
2015 Adorama Publish your own Photo Book New York, NY
2015 Bitume International Photography Festival, New York Photo Stories Street Photography Workshop Gallipoli, Italy
2015 Cape Cod Museum of Art, iPhone Workshop MA
2015 New York Photo Stories, Streets of Naples, Intensive street photography workshop, Naples, Italy
2012 Elders Share for the Arts "Photography and Storytelling" 24 session course given at the SAGE Center in Midtown Manhattan for LGBT elders to improve their digital photography and writing skills. Student Book Produced.
ARTIST'S TALKS
2017 Soho Photo Gallery Contemporary Photographers Lecture Series New York, NY
2017 School of Visual Arts, Guest Speaker Elizabeth Avedon's class: Book Making
2017 Columbia University, Photography Department Guest speaker
2017 Magazzini Fotografici Artist's Talk, Naples, Italy
2016 NY Photo Salon, New York, NY
2016 Texas Photographic Society, Dallas Photo
2016 B and H Photo Event Space New York, NY
2016 School of Visual Arts, MPS Digital Photo, Elizabeth Avedon, Guest Lecturer
2016 New York Public Library, Mid-Manhattan Branch
2016 NYC Streets Then and Now Panel Discussion
2015 Strand Books, The Phone Book with Sean Corcoran, Curator of Prints and Photographs, Museum of the City of New York
2015 Apple Store, Soho The Phone Book with Mario Estrada VP/Hipstamatic New York, NY
2015 Adorama Publish Your Own Photo Book
2015 Amerika Haus, The New Yorkers, Munich, Germany
2015 Bitume Photofest, Gallipoli, Italy
2015 School of Visual Arts i3 Lecture Series, New York, NY
2015 Islip Art Museum, Mash UP Islip, NY
2014 Flash Forward Festival -The Magenta Foundation Panel: Publish Your Own Photo Book, Boston, MA
2013 New York Public Library, Mid Manhattan Branch, New York, NY
2013 APA Lecture Series at the Apple Store, Soho, NY
EXHIBITION CATALOGUES (selected)
2018 Let There be Light (and Shadow) Umbrella Arts curated by Harvey Stein
2017 Street Smart School of Visual Arts, curated by Jaime Keating, New York, NY
2017 Members Only Show 30 Texas Photographic Society curated by Malcolm Daniel
2017 TPS 26 Texas Photographic Society curated by Alison Nordstrom, College Park, TX
2017 Composed Texas Photographic Society/Photo Place Gallery juried by Sam Abell
2014 Hipstamatic The A Smith Gallery curated by Mario Estrada, Johnson City, Texas
2011 The New Yorkers Citizenship Concept Museum of Contemporary Photography Istanbul, Turkey 2011
PRESS REVIEWS and EDITORIAL SPREADS (selected)
2018 From cinema to photography through the denunciation: the exhibition "The Yellow Truck" by Robert Herman at Casa Morra Secret Style Magazine by Emanela Espositio
2018 The Yellow Truck Arrives at Casa Morra ILMattinio by Cristina Cennamo, Naples, Italy
2016 The (mobile) Phone (Photo Book) Lens Culture by Jim Casper/Alexander Strecker
2016 Robert Herman Squares New Photos with Past Work, Using an iPhone App The New York Times
2016 Gorgeous Cinematic Photos From a Bygone Era of New York City Slate/Behold
2013 Recommendation # 3 : Robert Herman - The New Yorkers Memories of Time by Marc Wauman
2013 The New Yorkers: Color Street Photography from the 1980's by Jim Casper Lens Culture
2013 A View From Inner Turmoil by John Leland The New York Times, Lens
2010 Robert Herman talks about The New Yorkers Interview by Stella Kramer Stellazine
2009 "goodbye to frankie" 1000 Words Photography Magazine/Blog by Tim Clarke
2008 "Herman: Flash Sulla Vita" Alitalia Ulise Filippo Cellini, Rome, Italy
2003, New York, New York by Allison Hersh Savannah Morning News Savannah, GA
1998 For this shooter, it's all in the Details by Mitchell Seidel Newark Star Ledger Newark, NJ
RADIO/TELEVISION
2018 Interview with Robert Herman Radio Siani Naples Italy
2018 Mostre: La fotografia racconta il cinema Mattina 9/Canal 9 Television- Naples, Italy
2016 PHOTOPLUS EXPO: Robert Herman on Self-Publishing Successfully by Rebecca Robertson PDNPULSE October 31,2016
2016 Photographer's Role in a Digital Age The Leonard Lopate Show NPR - WNYC NY
2013 Capturing a Nuanced City, New York in the spotlight: The New Yorkers Foreword Reviews reviewed by Thomas Kachadurian
2002 Life of the City exhibition Photograph featured during an Interview with Peter Galessi,
NY1 News Arts Segment
VIDEO TALKS ON THE WEB
2016 The Phone Book with Robert Herman B&H Event Space https://www.youtube.com/watch?v=wC7-cUMXD6g
2015 Robert Herman and Sean Corcoran The Phone Book Strand Books New York, NY https://www.youtube.com/watch?v=Zx_0NcCbtWU
2014 Robert Herman, Street Photographer School of Visual Arts /i3 Lecture New York, NY https://www.youtube.com/watch?v=JmZ5WIqxAZ4